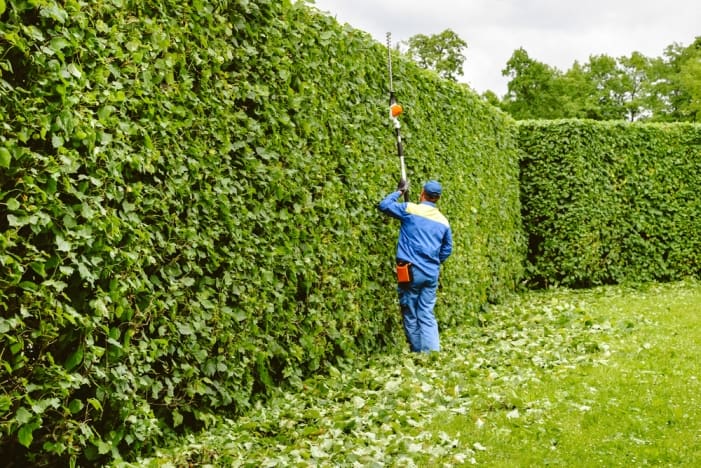 People think of many things when they hear the term "landscape maintenance" but it is likely that most of them do not realize how much a good professional landscaper does. Landscape maintenance companies work with both individuals and business owners to make sure your yard looks amazing all year around. Once they design and install everything to make it look good, their regular maintenance services are key to keeping it looking that way.
Why a Professional Landscaper?
Most laypeople cannot design, install, or even maintain beautiful landscaping for their property. This is especially true for business owners, who have neither the time nor the expertise to produce the stunning results they all want. Maintenance is a big part of a professional landscaper's job because without regular maintenance it is easy for bushes and trees to die, become shaggy or overgrown, or become misshapen and unattractive. Regular maintenance isn't necessarily complex but it works wonders in keeping your yard looking neat and beautiful twelve months out of the year. Of course, in order to produce these effects, you need a professional to do the work for you and the same companies that design and install your landscaping can easily maintain it as well.
Work with Them from the Beginning
Landscapers can create a design for your yard that is truly extraordinary and whether you want the yard to be lush and green or dotted with colorful plants and bushes, they can make it happen. They can even take a design you have in your head and turn it into reality and they do all this and more at prices that won't break the bank. They can install a variety of trees, bushes, plants, and flowers to make your yard a truly unique creation and then come back regularly to make sure that it stays that way. Their services include fertilizing all of the plants and trees, trimming and pruning, removing leaves and other debris, basic weeding, removing and grinding tree stumps, making sure that the mulch stays thick and fresh, and even cleaning up after a natural disaster. They can come out weekly, monthly, or even quarterly to freshen and clean up your plants and trees so that they don't get out of hand, which can happen quickly if no one keeps an eye on them.
Let the Professionals Do the Hard Work
Of course, the best reason to hire a professional landscaping company is because they have the expertise and knowledge to work on all types of plants and trees regardless of what you want from them. They take into consideration aspects such as the type of soil you have, where you live, and even the direction your house faces so that they can make the best determination regarding what to plant in your yard. When they come back for maintenance, they can tell immediately what needs to be done for improvement and then they get to work performing those tasks. They will fertilize, cut, water, and aerate and if they have to remove or replant something, they will do that as well. Professional landscapers know just what to do regardless of what is planted in your yard or the look you're going for. Because they offer free, no-obligation quotes before any of the work is started, it is easy to budget for the work you need done. Best of all, their prices are competitive and reasonable so you can utilize all of their services without going broke.
If you try to get a professionally-done, extraordinary-looking yard on your own, the chances of being successful are pretty slim. However, a professional landscaping company makes sure that you get everything you were hoping for regarding your yard's look, meaning that you will always have a yard that you are anxious to brag about to others.
You Can Add Ambiance to Your Yard
Your yard can have a lot of ambiance when you choose to work with professional landscapers because they personalize each plan so that you get exactly what looks great and what works best for your particular yard. Furthermore, these companies work with both homes and businesses so whether you own or manage a home, a retail store, a restaurant or diner, a hospital, or a corporate office building, professional landscaping companies will make sure that the property itself looks its best all year long. If you're wondering why you should hire the professionals to keep your yard maintained, there are three good reasons. First, your yard will always look beautiful and if you are a commercial entity, this can easily mean more customers and a better bottom line. Second, it is more efficient because they do the work for you while you concentrate on other things, such as running your household or growing your business. Last but not least, professional landscaping companies that offer regular maintenance keep your property safe by eliminating fallen tree limbs or plants that have gotten out of control; whether you have visitors or clients coming onto the property, this is very important.
Eliminating Your Worries the Easy Way
If you have a beautifully landscaped yard and wish to keep it that way, professional landscape maintenance is essential. After all, both individuals and business owners stay busy most of the time so knowing that your yard will be regularly maintained month after month can relieve a lot of stress and make you feel more at ease about the look of that yard. Professional landscaping companies work wonders because they can make a small yard look bigger and completely change the look of your yard so that it is always an eye-catcher. Landscaping companies charge reasonable rates for all of their services and they work closely with all their clients so that you get just what you want to make your yard look great. Even if you aren't sure what would look best for your property, professional landscapers can make suggestions so that your yard always looks amazing in the end, which increases the pride you feel for your home or office and gives you something to show off to your neighbors.