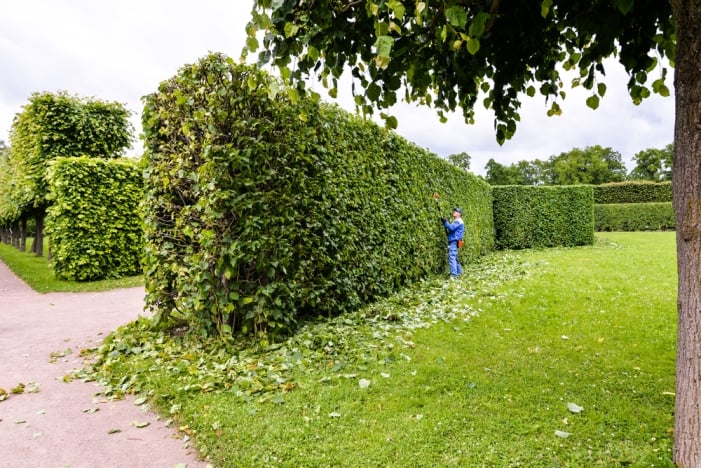 If you're on the fence about hiring an expert to come and provide landscaping services for your home, it is important that you learn more about all of the benefits that you can enjoy as a result of these services. These ten benefits make it easy to see why so many people hire landscaping services.
10 Landscaping Services Benefits
Improve the Appearance of Your Property
Probably the main reason why homeowner hire landscaping services is because they are not happy with the appearance of their property. It can be very difficult and time consuming to tackle a yard that is overgrown and to know how to make it look better. If you don't like the way your yard looks, hiring an expert is the fastest way to improve its appearance. This will ensure that your home looks as nice as your neighbors' and will allow you to be proud of your property. From planting flower gardens in the front to taming wild shrubs and bushes that are threatening to take over your sidewalk, landscaping services will tame your yard and make sure that your property looks the best that it possibly can.
Make Your Yard More Family-Friendly
If you have children or pets, you already know that they love to play outside. While this is wonderful and provides them with fun activities and a great way to get exercise, if your yard and property aren't safe, you won't want your children running around and risking getting hurt. Professional landscaping services will be able to come to your home and clean up your yard, ensuring that all dangers are removed so that your children can play outside without fear. For some homeowners, this may mean that the landscapers have to clean up metal and other dangerous items, while in less extreme cases, it will entail removing briars, poison ivy, and other problem plants that may harm children and other family members. You shouldn't have to worry about your children's safety when they are in the yard, and with professional help, you won't have to.
Increase the Value of Your Home
Another great reason to hire professional landscaping services is when you are going to be selling your home and want to make sure that you can get the highest offer for your property as possible. When homes look great, they are much more likely to sell for higher amounts than homes that don't look nice and cared for on the outside. Potential home buyers are going to base their interest in your home on whether or not your yard looks great, as they are going to drive by your property when hunting for a new home. If your yard is a mass of briars and weeds, they are very likely to just keep driving, as many people do not want to have to complete this type of work themselves to improve and update a property. Making your yard look great before you list your home will allow you to demand a higher asking price.
Protect Your Yard from Erosion
Many people don't realize that their yard is at risk for erosion, especially if they live in an area that receives a lot of rain or is located on the side of a hill or a mountain. While it may seem like something that will never happen to you, heavy rains can be devastating and can ruin your yard and your property. It's true that you can't guarantee that you won't ever have these problems just because you use landscaping services, but such professionals can help protect your property against erosion. They can do this because plants such as grass, trees, and bushes help to hold topsoil in place. When you have plenty of plants in your yard, you are much less likely to have problems with rain washing away your yard and soil, as the roots will hold it in place.
Boost the Economy
Not everyone sees this as a major reason to hire landscaping services, but if you have been on the fence for a while, it can be a great reason to choose to hire an expert for the job. When you spend your money locally, you can help to boost your local economy. By hiring landscaping services in your area, you will keep more money in your town. This will allow small businesses to grow and flourish and will ensure that your town doesn't fail anytime soon. When you work with small businesses, even landscaping businesses, you are doing your part to ensure that your town is friendly to and supportive of small businesses, which is important if you want to prevent it from becoming a ghost town.
Combat Pests
Having pests in your yard may not seem like a very big deal, but it isn't difficult for them to move to your home and start causing problems there, or to bite your family members when they are outside. You can go to the local store and buy your own pest control chemicals to combat this problem, but you are likely to use the wrong product or something that is too harsh for your children or pets to touch. To make sure that you don't have termites, ants, grubs, or other pests hiding out in your yard, hire landscapers to come and deal with the problem. These experts know how to combat pests and will be able to remove them from your property so you don't have to worry about the damage they can cause.
Expertise Matters When Choosing Plants
It's easy to go to a flower or plant store and buy one of everything and then get frustrated when your property doesn't look the way that you want it to. Not only do you need to consider what plants look best together, you also need to consider what their needs are and whether or not they will do well in your area. This is a lot for most people to try to learn on their own and can result in a lot of wasted time and money as well as a lot of frustration. When you hire landscaping services to come and plan out your yard for you, they will be able to choose the best plants for your region. This means that they will plant your new plants according to their sun and water needs and will make sure that they can adapt well to the type of climate that you live in.
Stay Out of the Hot Sun
Not everyone wants to spend time in the hot sun, and there are some people who can't be outside due to health problems. This doesn't mean that you have to give up your dreams of having a beautiful yard or landscaped property; it simply means that you need to be willing to hire professionals to come and do the work for you. If you are unable to be in the sun for health reasons or simply don't like working in the heat, you can still enjoy a great-looking yard. Professionals are able to spend long days working in the sun and can complete the work for you so you don't have to risk your health or your happiness.
Improve Your Living Space
Having any sort of outdoor living space will not only raise the value of your home and increase the amount of space that your family can enjoy, but will also provide you with a great way to enjoy the outdoors. Unfortunately, if your deck or patio is sparse and bare, doesn't have flowers or bushes around it, and is exposed to the hot sun all the time because you don't have any trees on your property, you are not going to want to spend a lot of time outside. This is a great reason to hire professionals to come and provide you with landscaping, as they won't just plant flowers and trees at your home, they will also make sure that your outdoor living space looks amazing.
Enjoy More Free Time
Not every homeowner wants to spend long weekends or every afternoon working in their yard to make sure that it looks its best. If you would rather be inside or have a job that demands your time and attention, you may not be able to devote the necessary time to your yard to keep it looking its best. You shouldn't feel bad about this. If working in your yard isn't a priority but you want to make sure that your home still looks amazing, you really can have it all. By hiring professional landscaping services, you can have a yard and property that you are proud of but can also enjoy your free time without feeling like you have to be out weeding every evening.
Hiring professional landscaping services will not only provide you with a great looking yard, it will also give you more free time and a safe place for your family to spend time together. You can boost the local economy, get expert help, and increase the value of your home when you rely on professional services.