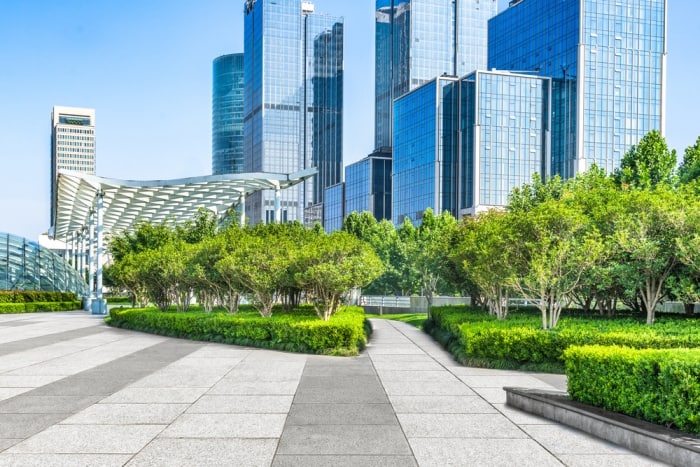 Are you looking for ways to turn your commercial landscaping into an eye-catching and alluring aspect of your business? The emphasis on landscape appearance and the popularity of outdoor living has grown so much over the last few years that it's become a key factor for many business owners. But just as with any other part of your company's look, you want to make sure that you're keeping up with the trends and appeal to the current market.
While there are certain aspects of landscaping that never go out of style, making sure that you are on top of the current trends is key when making your yearly design decisions. Here are five commercial landscaping trends that you might want to consider when starting your outdoor planning today.
Enhance with Local Nature and Exciting Colors
Today's world is obsessed with bright and eccentric colors and the landscape design industry is no exception. With the reportedly most popular plant color of 2018 being purple, you can expect landscape design teams to use both expected plants such as morning glories and violets in addition to more extravagant choices such as purple heirloom cabbage and chokecherries. The combination of expected and "out there" will bring a great balanced aesthetic to your landscaping.
One trend that goes hand in hand with the current social evolution, sourcing local plant species to put in your garden has become one of the biggest trends this year. Because they will already be acclimated to local weather and soils, you won't have to worry about them dying from shock. They will be much more resilient, making them last for significantly longer periods of time and making both your investment and time worthwhile.
Additionally, since these plants are accustomed to fighting through nature, there's much less maintenance you'll actually have to do in order for them to thrive. Make sure that you have a beautiful garden for as long as possible by designing a garden with significant amounts of local plant life today.
Multi Levels
Another really popular trend right now is the use of multiple levels to create depth and differentiation in landscaping. Having distinct looks on every different level gives you the opportunity to create multiple unique gardens within one outdoor space. This is great for business owners who hope to present different types of aesthetics to their client base. It's also a good way to appeal to the masses by having a little something for everyone as they move through your landscaping.
If you're in the hospitality industry, this is a great way to continue your indoor design style to the newly popular outdoor living and entertaining space. Use the different levels to create different "rooms" that can be utilized for multiple purposes. Take advantage of this indoor/outdoor blending by installing furniture and even using pillows and rugs for a comfy cozy atmosphere that your guests will love exploring.
Asymmetric Design
The social trend of staying true to one's self and embracing one's uniqueness is being echoed in currently popular landscape design techniques. Rather than adhering to the strict and rigid format of clear lines and shapes, there been a switch to more asymmetric styles with unstructured edges and curves. This look appears more natural and lets business owners blend their landscaping into the natural world around them. But how can you keep your asymmetric garden from looking too overgrown and unkempt?
Balance is always going to be a key factor in any landscape design trend. By having well-thought-out placement and a consideration for shapes and colors, designers can create asymmetrical balance in your garden that appeals visually to anyone who sees it.
Add Some Water
Water features have always been and continue to be one of the strongest landscaping trends there is. Not only are they beautiful and intriguing parts of your landscaping but they can also offer a wide variety of benefits to your business.
To start with, water features bring one of the most calming sounds from nature to your commercial landscaping, which is a great break from traffic horns, news alerts, and ringing phones that you and your clients have to hear most of the day. By adding stunning water features to your landscaping, you can have the most soothing sounds right outside your doorway.
Also, in keeping with the appeal of uniqueness, you can take your water feature and personalize it to fit perfectly within your business. Etch your logo into the feature's stones or turn your industry into a theme. There are tons of ways that you could make your water features uniquely you; just take the time to figure out how to best blend it into your overall landscape design.
Mood Lighting
Lighting has been and will continue to be a stunning and fun trend in the landscape world. Between solar lanterns, string lights, fairy lights, garden spikes, and many more lighting options, there's bound to be a choice that's perfect to emphasize the quality and aesthetic of your business. Not only is it a great way to add a little something extra to your landscaping but it's simultaneously a tremendous advantage when it comes to highlighting other various features that aren't necessarily located at the front of the door.
Additionally, the use of mood lighting in particular can add a serious glow and warmth to your company. Make your commercial landscaping the place where everyone wants to be any time during the day and even more so at night.
Landscaping has become just as important to a business's success as any other physical aspect. Customers want and expect to see companies that care about how they present themselves through landscaping and whether or not they keep up with the most modern of trends. Set your commercial property apart by utilizing these trends in ways that make them uniquely you and create an amazing first impression that will leave your clients impressed and wanting more. Keep these ideas in mind and start planning your next landscape design today.