How do you make controlling your smart home easy, convenient, and always at your fingertips? Choose the right app to manage your entire property. Find out which solution will work best for you.
What Is A Smart Home?
In recent years, more and more "smart" products have appeared on the market – from watches to shoes to flowerpots. For the most part, however, these are simply modern gadgets that make everyday life easier.
Meanwhile, there is much more under the term smart home. In such a place, all systems are integrated. This means that air conditioning, heating, recuperation, lighting, or blinds communicate with each other, and their operation is based on mutual optimization. This is also the main feature that distinguishes this type of building from traditional homes, where all systems and installations are controlled separately, as there is no connection between them.
What does a smart home mean for homeowners? First of all, thanks to the connections between systems, controlling the house becomes simple and convenient. With a single switch, you control the entire room – controlling lighting, music, as well as temperature, or blinds. Thanks to automation and scheduling, you have fewer responsibilities on your mind: you don't have to remember, for example, to adjust the temperature, turn the lights on/off, or water the garden – it happens automatically at specific times.
Learn more about the best smart home app.
Controlling a smart home – what solution to choose?
You can manage your smart home with devices such as smart switches, sensors (motion, humidity) or universal remote controls. These solutions give you quick access to important functions – for example, one touch of a smart switch will allow you to turn on the light or close the blinds in the room you are in.
However, if you want to have the entire property at your fingertips, a home control app will be essential. Let's assume that you live in a residence of 500 m2. The house consists of a dozen rooms, and in each of them, you will find: at least two windows with blinds, a minimum of 5 light points (main chandelier, wall sconces, standing lamp, LEDs), heating and air conditioning system, speakers and TVs.
Visualization (synonymous with home control apps), gives you an overview of every element and room of the smart home. You don't have to run around the entire (several-story) house to check that all the lights are off or to adjust the temperature in the living room or children's room. With a mobile app, you can control any function throughout the house and garden without moving from your study or bed. What's more, the whole house is under your control also when you are not there. All you need is a phone or tablet to remotely manage the property.
What smart home control app should I choose?
When choosing a home control app, it is important to keep in mind the system our smart home is running – the app must be compatible with it. In simple terms: there are wired and wireless systems available on the market. It is worth remembering that there is a range of limitations with wireless systems, so these solutions are recommended for smaller areas, such as apartments or small, single-level houses.
If you are looking for a system and application for a residence or apartment, direct your attention to mixed solutions (wired + wireless), based on standards such as KNX, Loxone, or Control4. They provide greater stability and are not intimidated by large areas and demanding functionality.
Naturally, one of the most important aspects when choosing an application, are the functions it offers. Controlling lighting, blinds, temperature and music is a standard that every homeowner expects. An important consideration is the user interface, that is, how the app looks, its layout, and the arrangement of the various functionalities. It is important that the interface is simple and intuitive to use – after all, you will be using it every day.
It is also useful to have a monitoring view and integration with a video intercom. Some apps also allow you to send notifications and give you the ability to set schedules. An interesting option associated with them is presence simulation, especially useful when you are away.
It's worth choosing a solution that is tailored not only to your home but more importantly to your individual needs. That's why this guide was created. Below are 7 smart home control apps. Explore them all and choose the one that suits you best.
Basalte Home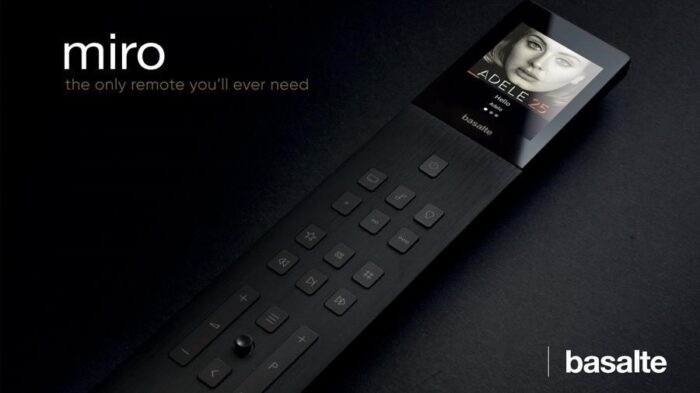 Using the Basalte Home app is possible from several levels. This is done using a dedicated KNX panel, an iPad in a frame, or a mobile app on a smartphone, available for Android and iOS devices. Basalte Home is a solution compatible with the KNX standard.
Basalte Home features a convenient and clear interface, guaranteeing easy and comfortable home control. The interface is designed to provide easy access to the most frequently used functions.
The functionalities of the Basalte Home system allow you to manage your entire property from anywhere – all you need is internet access. The application allows you to control lighting (including dimmable and multicolor), gate and roller shutter automation, heating, temperature, home appliances, and the sound system.
Basalte Home also gives you the ability to create personalized scenes, that is, specific sets of settings for lighting, air conditioning, or music, tailored to the time of day or circumstances. One of Basalte Home's capabilities is also presence simulation. It allows you to set a schedule for switching on lights, and appliances or opening and closing blinds, allowing you to create the impression that someone is constantly at home. This feature is especially useful during longer trips and is a great complement to the burglar alarm system. The visualization also gives you the ability to quickly check if all the doors in the house are closed.
The Basalte app allows you to manage user permissions. Children or guests don't need to have access to the settings in your bedroom or office. With user profiles, you control who has access to certain rooms, sources, and functions.
Pop-up push notifications (on smartphones and tablets) and voice information in a multi-room system make sure that residents receive the most important smart home information in real-time. With camera views, the property is always under your control – whether you're at home or away.
The Basalte Home system is a premium solution designed for installation in residences and apartments. With no restrictions on the number of rooms, it allows the application to be used in developments with a very large area.
After installing and launching the application, click 5 times on the "Basalte" logo to start the demo mode.
Grenton Home Manager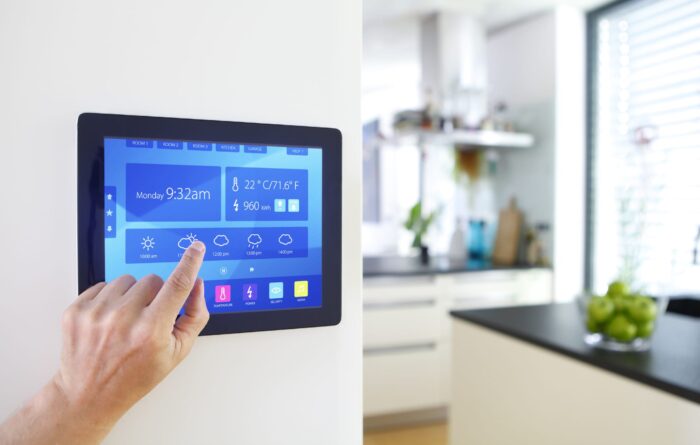 Grenton Home Manager is a solution that combines wired and wireless communications. Wireless technology uses two types of connectivity: Z-Wave and Wi-Fi. It allows you to control your home from any location via the Android or iOS mobile device of your choice.
The app works best in apartments and condos.
An interesting feature is multi-home – it allows you to manage several buildings equipped with the Grenton system from a single application. This functionality will come in handy, especially for owners of several houses or users who have a home and an office that they want to control using a single visualization.
Grenton Home Manager also allows you to customize the interface – for example, the arrangement of icons or buttons – to suit the needs of a particular user. The visualization can be designed quite differently for adult residents, and children, and still differently for guests. The final appearance of the application is heavily influenced by the preferences of the householders and the programming skills of the integrator (the person who designs and implements the smart home system). This is because the interface is fully programmable and can be freely modified.
The system uses interactive operating scenarios. These are properly programmed settings, according to which the application works at a certain time of day or in a certain situation. You are informed about current events by push notifications. Grenton Home Manager, in addition to basic options such as controlling the heat pump, lighting, or alarm, offers a function for predicting actions. For example – when the user is near the entrance to the house or the gate to the property, the app will display the right button on his device – "open" or "close".
Loxone
The Loxone application will find its use in apartments, single-family homes, as well as office buildings or hotels. The visualization is characterized by a minimalist, clear and intuitive interface, and the layout in the form of a drop-down list allows you to quickly move to the next functionality.
Loxone's solution provides communication between lighting, air conditioning, heating, and other systems, so that home conditions can be easily adjusted to the needs and preferences of its occupants. Controlling the home is possible from an Android, iOS, Windows, or Linux mobile device, or via a built-in central control unit.
The system allows managing the permissions of specific users, so the owner can fully decide on the type of access granted to them.
The system's operation is based on a proprietary Loxone Air solution, which does not require an internet connection. It is a radio technology that complements Loxone Tree wireless communication. It allows wiring to peripheral devices and connecting them to each other using a minimum number of wires.
Gira Smart Home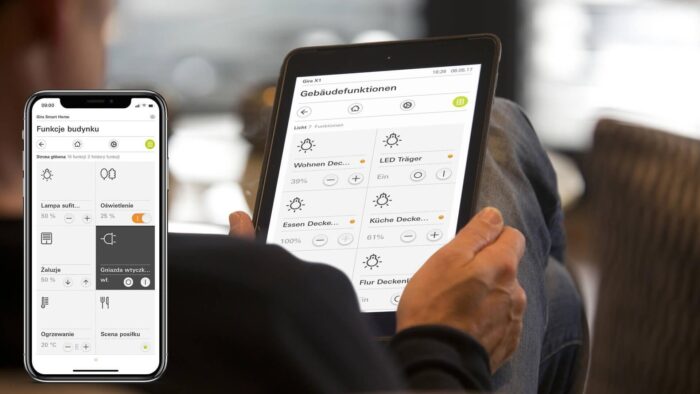 The operation of the Gira Smart Home system is based on wired technology in the KNX standard, but thanks to the connection via Bluetooth, the visualization can also be operated via mobile devices.
Gira Smart Home allows you to manage your smart home while you are in the building, as well as remotely – from the office or on vacation. The app allows you to control lighting, light color, heating, ventilation, blinds, or the security system. Gira Smart Home also allows the transmission and presentation of live video from cameras. The system is also equipped with a scene-calling function, which can consist of appropriate lighting, optimal temperature, or music playing in the background.
Gira Smart Home has a simple interface in which all functions are visualized in the form of tiles. The application also offers the option to personalize some settings, such as the appearance of the start screen or the position of icons. In addition, user settings, such as those for favorite functions or timers, are saved in the system. The Gira Smart Home visualization can be installed on Android or iOS smartphones and tablets.
Smart Home Ampio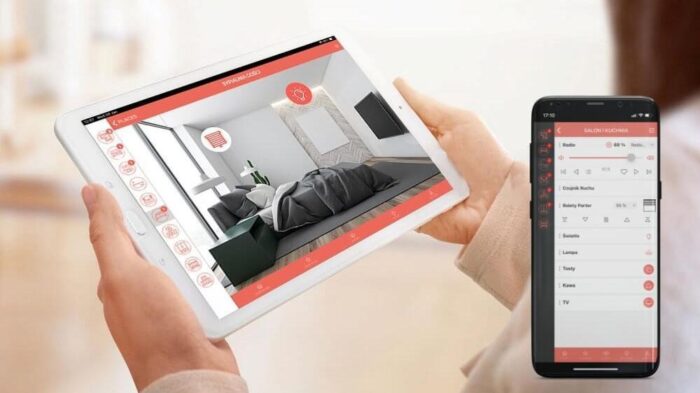 Ampio's Smart Home solution can be used in facilities ranging from small apartments and homes to office buildings, commercial buildings, or manufacturing plants. Control is possible using touch panels or via a mobile app, available on Android and iOS devices.
Room floor plans (as pictured above) can be uploaded to the tablet app, so you can easily control all functions. On smartphones, we have a view of lists and switches (on/off).
Smart Home Ampio allows you to control your home remotely. The app allows you to view home cameras, control the closing of doors or remotely adjust the temperature. A practical option is also the ability to open the garage door without getting out of the car. The visualization also has a presence simulation function, useful in case of a long absence. Another option is presence detection – so from the app, you can check if someone is currently in the house. Also worth mentioning is Ampio's easy integration with the Sonos multi-room system.
The Ampio solution, like Grenton Home Manager, is fully programmable – so the final appearance of the interface, access to functionality, and ease of control depend largely on the skill of the installer. It is therefore worth choosing a reliable contractor.
Smart Home Ampio, unlike most systems on the market, does not have a central unit. It is built on a wired system with a distributed form, where modules communicate directly with each other. As a result, even in the event of a server failure, the system still works, and you can control your home with switches. The system is compatible with the KNX standard, but the integration of the two systems is expensive.
How to choose the best solution?
The choice of a smart home management application cannot be random. When making a decision, a number of aspects should be taken into account – the functionality of the solution, the technology it uses, the specifics of the building, and your own needs.