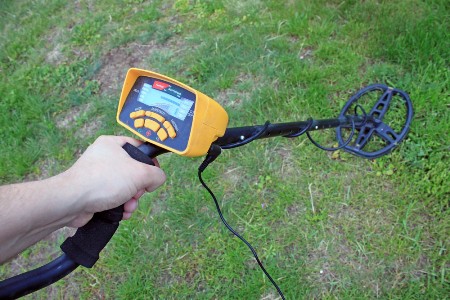 Metal detecting and treasure hunting can be a fun and interesting hobby for most people. The thought of discovering or finding precious metals is something that has crossed the minds of people since time immemorial. So if you're just one of those people and you're looking for a suitable metal detector just for this purpose, then this guide on the best beginners metal detectors on sale 2020 would be of great help in your selection and purchasing process.
If you're a beginner in the field of metal detecting, we have an informative buying guide just below the reviews that explains all the features you need to consider when searching for a suitable metal detector.
But first here's our list of the best beginners metal detectors on sale in 2020.
Best Beginners Metal Detectors on Sale 2020
1.Bounty Hunter TK4 Metal Detector
Metal detecting can be a fun and interesting hobby. It's not just a satisfying and engaging way to get fresh air and exercise, but the objects found can become an interesting topic for research and discovery. However, when a person is just starting out with metal detecting, it's difficult to know what all the features of a metal detector are, or what features will be best for their needs.
For those who are just getting started, the Bounty Hunter TK4 is a fantastic choice. It has automatic ground balance, and easy-to-use knob control interface to make metal detecting easy and fun to learn. It can detect coins at up to 8 inches deep, and large objects at up to 3 feet deep. It has three modes of operation, two audio tones, a target strength meter, an intensity meter, sensitivity and discrimination control, and a low battery indicator. It requires two 9-volt batteries to operate.
In addition to clear and simple controls, the Bounty Hunter TK4 is easy on the body as well. The padded armrest and adjustable stem make the 4.2 pound metal detector comfortable for hours of use. The 8-inch coil is completely waterproof, usable in shallow water, for use at the beach. The built-in Bounty-Arc stand prevents damage to the metal detector when it is not in use. It also comes with a 5-year warranty.
Pros
Offers automatic ground balance
Easy to learn
Detects up to 3 feet
Lightweight for comfortable use
Cons
Not as customizable as other options
Slightly heavier than other models
Summary
Overall, the Bounty Hunter TK4 lacks some of the finer controls and features of a more advanced metal detector. It's a bit heavy, and lacks some of the finer discrimination controls of a more advanced model. The Bounty Hunter TK4 has eliminated some of the more difficult tasks for beginners to learn, helping those new to the hobby jump right in and start having fun finding treasures right away.
Comparison
If you're looking to get a decent metal detector while still saving money, the INTEY GC-1065 is a great option to take a look at. It comes in a delightful color and allows you to easily hunt for treasure just about anywhere.
Verdict
The Bounty Hunter TK4 is an easy-to-use, rugged, reliable detector, and it's plain to see why it's one of the most popular metal detectors available. It has the sensitivity and discrimination abilities you need to find treasures buried up to 3 feet underground, with a waterproof coil and 3 search modes to keep you company on any detecting adventure.
2.Garrett 1140900|Pro-Pointer AT Waterproof Pinpointing Metal Detector
A pinpointer is an excellent companion tool to a standard metal detector with a coil. These pinpointing metal detectors are small and designed to tightly aim a metal detecting "beam," that works at a closer range. When a standard metal detector signals that it has detected something, a pinpointer can more precisely find detected objects. It's small enough to fit inside a hole and guide your digging, reducing frustration and uncovering your hidden treasures faster.
The Garrett 1140900 is a great example of a simple, durable pinpointer. It has three sensitivity levels, and has a fast retune to shrink and target the detection area. Retuning helps you tune out mineralized ground, help determine the size and distance to your target, and determine whether you are detecting one large target or several small ones.
The Garrett 1140900 has a number of design features that will come in useful when metal detecting. It has a built-in LED flashlight, a patented scraping tip, molded ruler on the side in inches and centimeters, and a built-in lanyard loop. It is also fully immersible in water, up to depths of 10 feet. The fact that it's waterproof makes it even more useful on the beach, a metal detector's favorite destination. Even better, it is designed to not get lost. It has a lost alarm. The lost alarm and bright orange color make it easy to find and keep track of the Garrett 1140900. It also has a 2-year warranty.
Pros
Built-in LED flashlight
Fully immersible
Includes a lost alarm
Comes with a 2-year warranty
Cons
Can become less accurate over time
May have problems with saltwater
Summary
Garrett metal detectors are one of the best brands on the market, known for exceptional quality, innovative technology, and great service and support. The Garrett 1140900 is a pinpointer that lives up to the brand reputation, and is one of the favorites of newcomers and experienced treasure hunters alike. It has been specifically designed to improve on standard pinpointer designs.
Comparison
For those who would prefer something at a lower cost, the Kuman Metal Detector is worth trying out. Though it may not have the same capabilities as the Garrett 1140900, it's an option that may be a less expensive way for beginners to get their feet wet.
Verdict
Overall, the Garrett 1140900 has excellent sensitivity, fast retuning, and a number of thoughtful design advances that make it an excellent companion for any treasure hunting adventure. It's a versatile tool that will reduce your treasure hunting and increase your treasure finding.
3.National Geographic PRO Series Metal Detector
One of the unexpected challenges of a metal detecting hobby is the simple physical task of holding a metal detector at the end of your arm. Even when it is a lightweight metal detector, over time, a few extra pounds can strain your arm and shoulder and be difficult to manage. In addition, many metal detectors are bulky and challenging to transport from place to place for the best treasure hunting.
The National Geographic PRO Series Metal Detector solves those problems neatly, weighing just over 2 pounds, and is collapsible from 51 inches to just 22 inches long. This small, lightweight metal detector can also be adjusted to lock in place from 22 to 45 inches, to fit treasure hunters of any size and be comfortable to use for hour after hour.
This lightweight and compact metal detector also has a lot of advanced features you need. The 10-inch coil is waterproof and is great for use nearly anywhere. It has four sensitivity levels, three detection modes and a pinpoint feature to assist in locating your treasure. It detects metal up to 12 inches and offers audio alerts with volume adjustment. It also has a standard headphone jack and the LCD display is easy to use and operate. It comes with a 2-year warranty.
Pros
Very lightweight
Adjustable length
A good variety of sensitivity levels
Includes a 2-year warranty
Cons
Buttons may sometimes not work
Can arrive broken in some cases
Summary
The National Geographic PRO Series Metal Detector has features advanced enough for experienced treasure hunters, but is also lightweight enough and adjustable to fit kids, for a fantastic introduction to a life of learning and discovery. The compact size and light weight also make it easy to use for anybody new to the activity, with a minimal amount of arm, shoulder, or lower back strain, because it can adjust to be ergonomic and comfortable for any body type.
Comparison
For those looking for something less expensive and more beginner-friendly, then the American Hawks Metal Detector is worth a look. It allows you to adjust the sensitivity as well as the length of the device overall, making it very user-friendly.
Verdict
The National Geographic PRO Series Metal Detector is a great choice for kids and adults, amateurs and seasoned professionals. It has great features in an easy-to-use package, and proceeds benefit the National Geographic Society.
4.Bounty Hunter Pro Metal Detector
Experts say that, if you are taking your treasure hunting seriously, you should buy the best metal detector you can afford. To illustrate that point, people who have purchased the Bounty Hunter Pro metal detector often find valuable treasures in their own yards, even when they have used other metal detectors in their yard in the past. It proves that quality does make a difference.
The Bounty Hunter Pro has a lot of attractive ergonomic features. It weighs just 2.4 pounds, with an adjustable length and an 11-inch waterproof coil. The large display is easy to use and read, with adjustable audio volume and target identification display. It has a four tone audio system, so you can easily hear different tones for different targets.
It has a variable tone breakpoint so you can set your own threshold for the metal detector's ferrous/non-ferrous decisions, and adjustable iron audio. It has a pinpoint mode with depth indicator, and the Bounty Hunter Pro is capable of detecting a coin at 10 inches. The easy-to-use menu system has variable notching. It also has computerized or manual ground balancing, with efficient ground grab. It has seven operating modes, and Advanced Notch Discrimination allows you to exclude trash, iron, or aluminum, or adjust discrimination levels to adjust the target category arc and accept or reject any category you choose.
Pros
Very lightweight
Easy-to-read large display
Customizable
Far-reaching
Cons
Display buttons can cease working
The pinpoint function may be unreliable
Summary
Gold hunters love the Bounty Hunter Pro metal detector. The ability to adjust the V-break and target categories make it easier to target exactly the metals you are looking for and properly account for your local soil conditions. It has the sophisticated options and customization levels that the most experienced treasure hunters are looking for in a metal detector.
Comparison
For those who are looking for something that comes at a more beginner-friendly price, the National Geographic Metal Detector is worth checking out. It's a lightweight device that offers a variety of detection modes so that you can pinpoint treasures.
Verdict
Because of the adjustable V-break, the Bounty Hunter Pro is the preferred metal detector for those who are specifically seeking gold. This accurate, sensitive, durable metal detector is a great choice for hunting, and finding, the metal you are looking for.
5.Garrett Ace 250 Metal Detector with Submersible Search Coil
Garrett metal detectors are incredibly popular products, with a history of high-quality metal detectors sold with excellent service and customer care. With more than 40 years in business, powered by the innovations and inventions of founder Charles Garrett, and a philosophy of integrity in business, Garrett is one of the best brands of metal detectors.
The Garrett Ace 250 metal detector lives up to the legacy of the brand, and has been a favorite of treasure hunters for years. It has electronic pinpointing, five search modes, and a continuous coin depth indicator. You can use the pre-set discrimination patterns for all metal, jewelry, relics, coins, custom, and pinpoint, or chose your own discrimination pattern. It weighs just over 4 pounds, has a 9-inch waterproof coil, and has a 2-year warranty. It requires 4 AA batteries.
The ability to adjust to eight different levels of sensitivity makes the Garrett Ace 250 a great metal detector for beginners and advanced hunters alike. It detects metal up to 8 inches underground (although some people report that it works at depths up to 12 inches), with sophisticated discrimination for different ground conditions.
Pros
Includes five searching modes
Works up to 8 inches below ground
More sensitive than other options
Easy to use
Cons
The coil can go bad after just a few uses
In some cases, pieces may be missing
Summary
The Garrett Ace 250 has all the features that pros are looking for, but with the light weight and ease of operation that make it simple for a beginner. The fact that this detector has enjoyed such widespread and enduring popularity also provides another advantage to people who are just starting out.
Comparison
If you'd prefer something at a slightly lower price, then the Garrett Ace 200 is a similar option to the 250, with just fewer bells and whistles. It's a solid option for those who are new to metal detecting.
Verdict
The Garrett Ace 250 is a fantastic metal detector for its accuracy and simplicity. Beginners will find that it's simple to use, with a control panel that tells you exactly what you need to know. Advanced users love how well it works, and the degree of customization in the settings allows you to find exactly what you are looking for and spend less time digging up trash.
6.Garrett Ace 300 Metal Detector
The Garrett Ace 300 is an advancement and improvement on the perennial favorite of the Garrett Ace 250. With the 300, Garrett has added several thoughtful features and design improvements to make this metal detector even more effective and useful.
The Garrett Ace 300 has Digital Targeting ID with a 0 to 99 scale for accurate targeting information. The large 7 by 10 inch submersible search coil offers greater coverage and depth. The adjustable frequency helps to eliminate unwanted interference. It has five search modes (plus pinpointing), with an electronic pinpointing mode to locate targets more precisely and make recovery more efficient. You can modify your discrimination patterns with notch discrimination, and also adjust the sensitivity and depth. The coin depth indicator determines target depth.
Like other Garrett metal detectors, it has an easy-to-read, easy-to-operate display. The Ace 300 weighs about 5 pounds, and adjusts to lengths from 40 to 53 inches. It also comes with a carrying bag to make traveling with your metal detector more convenient. It requires 4 AA batteries.
Pros
Provides accurate targeting
Easy to use
Great for beginners
Uses simple batteries
Cons
There is a bit of a learning curve
Some users may discover they find a lot of trash
Summary
The Garrett Ace 300 offers several advantages and advanced features over the Ace 250 that consumers have been asking for. The 8kHz high frequency provides better sensitivity in low- and medium-conductivity targets like gold and lead. It has twice the iron resolution of an Ace 250, to overcome masking in iron-rich sites. It has three audio tone ID levels, with pulse-width modulation audio for sharper, more responsive sound. The expanded target ID legend includes an indication of the denomination of US coins. It also has camlocks for increased stem stability.
Comparison
If you're looking to save a little money, the RM MICROMAX is worth taking a look at. This option provides plenty of modes to ensure you're able to customize it to fit your needs. It also includes a waterproof coil.
Verdict
The improved audio system, more sophisticated iron discrimination, and incredibly powerful and helpful Digital Target ID system make the Ace 300 a powerful follow-up to the Ace 250, providing the features and enhancements that Garrett fans have most requested. The addition of headphones, a carrying case, and batteries make it easy to start hunting with the Garrett Ace 300 right out of the box.
7.Deteknix Scuba Tector Underwater Waterproof Metal Detector
A compact metal detector with the durability to go deep underwater is many treasure hunters' ideal device. Many people buy a metal detector simply because they have lost a special ring or valuable item, rather than because they intend to start metal detecting as a hobby. A specialized underwater metal detector has a lot of uses for a range of people.
The Deteknix Scuba Tector is specifically designed for this kind of deep underwater use, in both fresh and saltwater. Waterproof up to 60 meters or 200 feet, this compact, handheld metal detector is a great companion for underwater adventures. It has two modes, one for snorkeling, and one for deeper diving. It alerts with an LED light, audible buzzer, and vibration, so that you never miss a signal. It has a target-locking function, and can also act as a pinpointer. It has a lithium polymer battery that can be recharged via USB.
The Deteknix Scuba Tector also has a number of design features to help you on your dive. The LED signal light also has a flashlight mode, which not only helps you find any target you are seeking, but can be generally useful when deep underwater. The bright orange color, ribbed grip, and lanyard loop all work together to help prevent losing the metal detector. It also has a lost alarm in case you do lose track of it.
Pros
Signal light is highly useful
Great for searching for lost items
Charges quickly
Works well underwater
Cons
Can sometimes be less waterproof than needed
May be more expensive than other options
Summary
However, because the Deteknix Scuba Tector is preset to ignore saltwater, and doesn't have user-adjustable notch settings, it does have trouble identifying gold. It does have a better chance of detecting a gold ring or rings of other metal, because the ring shape improves conductivity, but it can't be relied upon to detect chains or nuggets.
Comparison
For those who are looking to keep a little bit of cash in their pocket, the Quest 1701.101 is worth taking a look into. This is an option that is capable of hand submersion of up to 200 feet under the water, and the bright coloring will ensure you don't lose it even if it's dropped.
Verdict
The Deteknix Scuba Tector is a fun and useful accessory for either a devoted treasure hunter, an avid scuba diver, or even someone who lost a precious piece of jewelry while swimming or sunbathing. It's compact and durable, with the features you need to find metal underwater.
8.Pyle Pro Pinpointer Metal Detector
Pyle metal detectors have an excellent reputation for quality at an affordable cost, and their metal detectors consistently rank among the top models. The Pyle PHMD74 has a built in pinpointer, but is it as good as a standalone pinpointer?
The Pyle PHMD74 Pro has a digital control box and LCD display, with five metal detection operating modes. It has a target ID function to indicate metal type, adjustable sensitivity settings, and three varying audio alert signals. You can hear alerts with the built-in speakers, or with headphones. It has auto ground balance and a waterproof coil. In terms of usability, it weighs 3.35 pounds, is 28.7 inches long, and requires 6 AA batteries.
As a pinpointer, the Pyle PHMD74 has five levels of signal strength and an 18cm sensitivity pinpoint. It has good targeting direction ability, particularly considering the price point of the competition. However, calling the Pyle PHMD74 a pinpointer isn't exactly accurate. One of the advantages of a more traditional, separate, pinpointing metal detector is that you can get very specific directional indications while digging, especially from within the hole. A traditional metal detector shape, like the Pyle PHMD74, only detects metal below the coil.
Pros
5 operating modes
Customizable features
Easy-to-understand alerts
Use simple, easy-to-obtain batteries
Cons
Can arrive in nonworking condition
May not find all metal types
Summary
The Pyle PHMD74 is a good metal detector with great accuracy compared with others in its class. However, it doesn't offer some of the specific advantages of a specialized pinpointer, so one shouldn't expect that level of sophistication from the coil of the Pyle PHMD74.
Comparison
A similar option to the Pyle is the Bounty Hunter QSIGWP. This metal detector comes at a similar cost, and is highly rated by most users. It also offers a convenient LCD display and depth control with the touch of a single button.
Verdict
The Pyle PHMD74 is an easy-to-use metal detector. Automatic ground balance and simple operation make it a great choice for beginners, with a rugged design and waterproof coil capable of hours of enjoyable hunting and finding all kinds of treasures. It has great directional accuracy and intelligent targeting. And, for newcomers to this fun and exciting hobby, it might also be worth investing in a pinpointer to make digging faster and more accurate.
Metal Detectors' Buying Guide – How to Buy a Metal Detector and What Features to Consider
Just like most other products, metal detectors come in various types, designs, and price ranges, and becoming familiar with all of them makes choosing the best one a lot easier. Once you determine which type is best for you, you can easily buy the perfect metal detector online, which also gives you a lot of variety when it comes to price. You can get a metal detector for under $100 or one that costs more than $500, but if you know what you're looking for, it is much easier to get one that both meets your needs and is affordable and easy on your wallet. Below are a few tips for help you find the perfect metal detector.
Your Budget is a Factor
Metal detectors come in all price ranges, but this doesn't mean that you have to spend a lot of money to get one that is high in quality and which works well. In fact, the prices for metal detectors have remained fairly stable through the years, so you might be surprised by how low the prices really are. For the most part, the main differences have to do with the extra perks that the metal detector has, not how well it works. You might want to first consider if this is going to be a hobby of yours, or if it is something you want to take seriously because if you are just curious about metal detectors, you can save a lot of money by buying a lower-priced model. You also need to take into consideration any accessories that you are going to need, such as trowels, coil covers, headphones, and scoops, among others. It might be better if you settled on a price range instead of an exact price, in other words, decide that you're going to spend between $150 and $200, rather than saying that you want one which costs $150 and no more.
What are You Looking For?
Few people buy metal detectors with the thought that they are just looking for … whatever. Most people are looking for coins, gold, other types of metal, or even relics and artifacts. Of course, when you start to use your metal detector, there is no telling what you'll actually find, but, if you're looking for something specific, this might affect the type of metal detector you should buy. If you're looking for hidden treasure, artifacts, and buried coins, you will do better with a metal detector that has a deeper seeker, preferably one that is used by professional or serious treasure-seekers. You may pay a higher price for these types of metal detectors, but it will be worth it in the long run because it will produce better results when you're out and about and using your metal detector.
Of course, most metal detectors made today are known as "all-purpose" metal detectors, and they can detect everything from rings and relics to gold and coins. The all-purpose detectors are also easy to tune and easy to use, so they are perfect for beginning users. Most of them include other features as well, including pinpointing abilities, features that help eliminate junk and trash targets, and metal detectors made especially to find items made of gold, although the latter is not actually required to find things such as gold coins and other gold items.
Where Will You Be Using Your Metal Detector?
If you're in an area where finding a particular item is more likely, such as near a coastline or an area that is known to contain a lot of coins or gold items, you may need a more specialized metal detector. Again, most all-purpose metal detectors do the trick for most people regardless of what they're searching for, but if you want to take it up a notch and look around for something specific, it is very likely they make a metal detector to suit your needs. Research the detectors online, and learn what the manufacturers recommend them for, because each metal detector has its own features and characteristics. They have different swing speeds and different weights; for instance, if you're going to be traveling with your metal detector, it is best to find one that detaches into several different parts because it can be easily packed into a suitcase that way.
Another thing to consider regarding where you will be using your metal detector is the fact that certain circumstances will require a different type of metal detector. For example, if you are near a beach or lake you'll want to make sure that the metal detector you're using is water-resistant or waterproof, and, if you read the instructions from the manufacturer, this should easily answer that question. Some metal detectors can be used in shallow waters, while others can be fully submerged in ocean water, but you'll want to know for sure before you start using your detector. Reading the instructions supplied by the manufacturer is always highly recommended because this should answer most of the questions you have about what you should and shouldn't do with your metal detector.
The Condition of Your Metal Detector
The more you use your metal detector, and the rougher you treat it, the more likely you'll need a sturdier and more rugged one in the end. Let's face it, you're only human, and you're likely to drop your metal detector and swing it through some pretty rough terrain, bumping into rocks and other items in the process. Whether you are planning to use your metal detector only on the weekends or every day, you need to plan accordingly when you're purchasing that metal detector. Yes, all-purpose metal detectors can suffice for most people using these products, but if you already know that you're going to put your detector through a lot of bumps and jolts, you may want to consider buying a higher-quality one. It'll only cost you a little more, but it will be well worth it in the end.
Regardless of the type of detector you discover that you need, you can easily research them online so that you can feel confident about your final choice. Manufacturers of these items are anxious to share with you their best and most important features, and most of the websites that sell metal detectors go into quite a lot of detail on each item that's listed there. This includes the exact size of the detector, its best features, and the type of items it is most likely to find once you start using it. Fortunately, most of the metal detectors on the market today have to go through a very strict process to make sure that they meet certain standards, so in most cases, at least, you'll be able to rely on the detector you choose to meet your needs.
A Few Final Thoughts
If you're going to be sharing your metal detector with someone else, especially if that person is a child, you'll also need to consider the size of the detector. There are different ways that a metal detector can be adjusted to fit someone who is a different size than you are. Some detectors have arm cups which can be lowered or raised to change their length, while others are made so that the box which holds the controls and the boards can be taken off the pole and placed on a small mount. Regardless of the option you choose, it is good to know that there are adjustable metal detectors that can fit people of various heights and sizes, which is especially useful if you're planning to use your detector for the entire family.
Another factor to consider is your level of experience. Fortunately, the less experience you have the less expensive it will be for you to find the perfect metal detector. This is because if you're just starting out, the metal detectors that are light and small are the best ones to learn on, and these tend to be less expensive, as well. A good all-purpose metal detector is just perfect for beginners, and they are reasonably priced and are able to locate nearly anything you happen to be searching for. They also usually have the exact same features as most other metal detectors, including:
Calibration, which takes into consideration all of the metallic substances found in the soil; it is also known as ground balance
Coil shape and size, which detects how far and wide the device's electromagnetic waves can reach
Discrimination, which is the detector's ability to detect different metals underground; this is a newer feature not found on many metal detectors
Pinpoint mode/depth indicator, which aligns the response point to the coil's center and lets the user know how far down they have to dig to get to the item, respectively
Radar, which detects the density and size of a metallic object
Sensitivity, which determines what it is going to detect
Technology, which includes best frequency oscillation (BFO), pulse induction (PI), and very low frequency (VLF)
Different metal detectors have different qualities and characteristics, but finding the one that is right for you shouldn't be a difficult task.
Conclusion
That wraps it up for this detailed guide on the best beginners metal detectors on sale 2020. We hope this guide will help newbies who are just getting into metal detecting or treasure hunting to choose a suitable metal detector for their metal exploration needs. Any questions about metal detectors can be left in the comments section below and we'll try to answer them to the best of our ability.